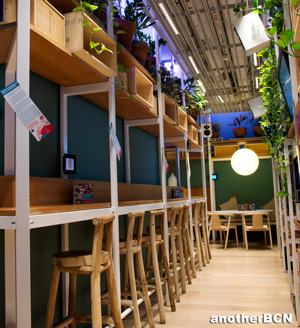 Update: this restaurant no longer exists. But we keep the post to remind it.
The Fastvínic Restaurant, situated in the centre of an office area in the Eixample district, is one of the restaurants that prepares the best bocadillos (sandwiches made with Spanish bread cut lengthwise) in Barcelona. Delicious recipes, carefully prepared by Sergi de Meià and which can be paired with excellent wines selected by the sommelier, César Cánovas.
They offer 24 varieties of wine, all of which are Catalan. I was surprised at the curious way they serve them, with a vending machine which works by inserting a card.
Of all the bocadillos I have tried, I just loved the aubergine bocadillo with cheese and tomato. AMAZING! But I have been there several times and I liked all the ones I've tasted.
To choose the one you fancy the most, there is a giant screen displaying all the bocadillos they offer. There are icons or colours to indicate whether the bocadillo is cold, hot or vegetarian. They also serve gluten free bocadillos.
Fastvínic is special, not only because of the wines it offers and the creativeness of its bocadillos, but because it gathers together a series of characteristics that we should expect to see in all establishments: sustainability and quality.
On the one hand, the restaurant belongs to the Slow Food movement which refers to using organic, seasonal ingredients which have been obtained locally. On the other hand, the interior design, which is the work of Alfons Tost, is based on the use of ecological materials and furniture and, among other features, it is worth mentioning that the plants have not been placed around the whole premises without a reason; they help to control the air inside. All this has led to Fastvínic being awarded the LEED certification (Leadership in Energy and Environmental Design).
The access to the toilets is downstairs, where they keep the air purification system and where there's a room with controlled temperature which houses one of the wine cellars belonging to the Monvínic Restaurant, Fastvínic's first cousin.
There is a peaceful atmosphere and the background music is pleasing to the ear. From Mondays to Wednesdays they play classical music and from Thursdays to Sundays, they play chill-out.
Opening hours: Monday to Saturday from 12h to 24h
Average price: €15.00
Address: C/ Diputació 251, 08007 Barcelona
Telephone: (34) 934.873.241
Fastvínic Restaurant website