This Christmas, Maremagnum has dressed up in its finery. Apart from its cheerful festive decorations with golden Father Christmases welcoming visitors, it offers a street market where you can find the most original presents for these dates; known as the «Downtown Market especial Navidad», a market that is held during the first weekend of each month, but at Christmas the market lasts for 13 days, from 20 December to 4 January.

This morning we've been fortunate enough to enjoy a sunny day  in this small urban market full of all sorts of things; men's and women's clothes, complements, jewellery, cosmetics, dolls and even small pieces of furniture.
The market is held on the centre terrace of the second floor of the Maremagnum. It is a pleasant place where you can walk around easily, accompanied by good music with a live DJ, who plays Christmas songs now and again.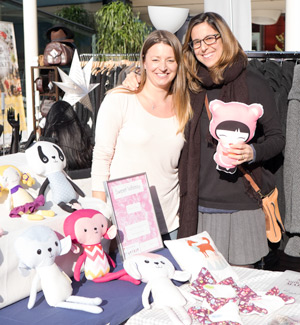 The stall that caught my attention the most (and the one that gets my vote) was one that sold rag dolls. Although it isn't the most fashionable stall, in my opinion it is the cutest and stands out from the rest. It's called Sweet Whimsy, with funny fluffy toys that are also really cuddly and handmade by Shannon. You can also order customised toys, which cost between €6 and €15. I thought they were so lovely I couldn't resist buying a small Geisha cushion that will keep my daughter company in her cot! LOL! In addition, they gave me a little mouse that will join the «troupe» of fluffy toys that live at home.
Although I'm not into creams, I have to say that I fell in love with the recently created brand of natural cosmetics Mare Mae, based on minerals from the Dead Sea. They have started with a small range that doesn't contain artificial dyes or preservatives and comprises face creams, body lotions, face packs and peeling. Their creator told us with enthusiasm that the creams are of exceptional quality but are sold at a reasonable price.
It's evident that no street market would be complete without sun-brushed sunglasses, which are so popular at the moment, scarves, bags, jumpers, bracelets, necklaces, hats, socks, Christmas decorations… and lots of interesting items that could make good presents to give someone at Christmas.
My visit started and ended in Restaurante Alegra that opened only recently and which offers some marvellous views of the city. I'm looking forward to trying it one day.
Make a visit to Downtown Market and find everything you need to liven up your Christmas! 🙂
Downtown Market Christmas 2014: from 20th december to 4th january
Horario: from 12h to 20h
Ubicación: Maremagnun 2nd floor